Its finally that time of the years where the celebrations are at its peak, people forget about the worries from the past year and celebrate with the belief of an even better new year ahead and so how better to unwind than a music festival and a thrilling experience like no other. The Bacardi Enchanted Valley Carnival is one such occasion that is set to take place on the 18th, 19th and 20th of December at the picturesque Aamby Valley City at Lonavala. Every year the festival has looked to raising the standard of the music industry in India by offer a host of amenities and the ideal festival experience and surely enough this years edition has reached has raised the bar ever so high. With a massive line-up including electronic dance music legends like Tiesto, Fatboy Slim, Ferry Corsten, Dzeko & Torres and deep house maestro Oliver Heldens , the festival has gained massive response already and is attracting huge crowds.
This year round the theme of the festival basically revolves around the concept of bringing together the various aspects of the modern and the ancient world, and will be using the hashtag #JoinTheTribe. And so living up to the very theme, Bacardi Enchanted Valley Carnival 2015 has come up with the idea of brand new stage setups which go by the names- Cosmos, Pyro, Akva, Terra & Aero. Wherein each represent 5 different sub cultures and tribes further representing different genres of music just as the four elements of the cosmos earth, water, air and fire come together as one.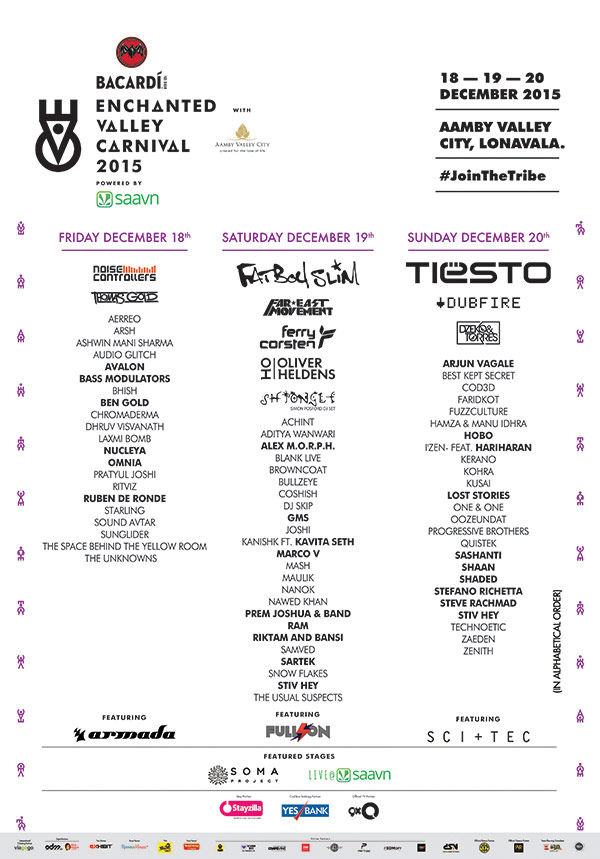 Following is a run through of what to expect at each stage:
COSMOS STAGE
The Cosmos is regarded as the Universe that is made up of virtually every single piece of matter from the smallest subatomic particles to all large matter and energy and hence all the time and space. The stage name COSMOS is hence is only fitting to play host to some of the biggest artists at the festival. The Cosmos which is said to combine all the positive energy will bring together some of the top artists and feature a host of genres including Hardstyle, Future House, Big Beat, Electronica and Commercial.
On day 1 (18/12/2015) the stage will feature:
NUCLEYA
One of India's most popular Dubstep DJ and producer, Udyan Sagar or better known to most as NUCLEYA has truly made a mark for himself in the past five years or so. His tunes imbibe several Indian tunes and textures but in the same time are ever so thumping and catchy which truly makes him stand apart. He has performed at numerous music festivals around the world including Glastonbury (UK), Edinburgh Fringe Festival (UK), Lille 3000 (France) and the Electron Festival (Switzerland),Bacardi NH7 Weekender where he performed alongside artists like Diplo ,Modeselektor, Skrillex and loads more.
NOISE CONTROLLERS

Easily one of the front-runners of the Hardstyle genre of music, they have been in the music scene for almost a decade. They have a unique ability to emotionally captivate their listeners with their rather addictive signature sounds. In the year 2014, Noisecontrollers reached the #67 position in the coveted DJ Mag Top 100 DJ's list which was a huge boost to their career and the music only got better.
Other artists for the day include Bass Modulators, RITVIZ and SOUND AVATAR.
On day 2 (19/12/2015):
FATBOY SLIM
Not new to the festival, Norman Cook also known as Fatboy Slim will be all set to enthrall the crowds at the Enchanted Valley Carnival once again this year. His ever so high energy shows and his energetic and happy demeanor truly makes him a favorite among st his fans. Besides having performed in some of the top festivals around the world, he has even hosted his own event, the Smile High Club arenas which has an amazing response in the past year. So come out and don't miss the man behind the Electronic Dance Music anthem 'EAT SLEEP RAVE REPEAT' live in action.
OLIVER HELDENS
This artists hardly needs any introduction especially with his involvement in the EDM scene in the past few years. The deep house sensation and Dutch DJ and producer, Oliver Heldens has made quite an impression for himself since the production of his future house track Gecko back in 2013 and his journey soon after has been one we can only dream off. He has perfectly found the blend between Deep house music and progressive house and thereby gained millions of fans all over the world. So catch this Dutch sensation who has performed in Tomorrowland ,Ultra Music festival and several other top music festivals live in action in India.
Other artists for the day include Far East Movement, NANOK, Sartek and Nawed Khan.
On day 3 (20/12/2015):
TIESTO
Yet another massive headliner for this years addition of the festival is the legend himself Tiesto. He has been producing and DJing in the EDM scene long before several of the current top artists were even born and this in itself should give you an idea of how experienced he is, especially for him to still maintain a top spot in the scene after all these years. He has worked alongside ever artist or musician and mentored several others in the past and you surely cant afford to miss this legends set.
DZEKO & TORRES
Two young artists who have made their foray into the EDM scene especially thanks to their mentor Tiesto and have truly proved their worth. The Canadian duo consisting of Luis (Torres) and Julian (Dzeko) who worked as a photographer and an event promoter respectively initially met each other through a DJ portal and soon began Djing and producing under the guidance of Tiesto. Over the course of time they released several tracks under top record labels like Mixmash Records, Dim Mak and CR2 Records. They soon got a huge break with a chance to perform at a top club where they truly left  lasting impression on the fans and the rest was history.
Other artists for the day include Indian superstars who represented the country at this years edition of Tomorrowland Lost Stories and ZAEDEN, as well as ZENITH and Kerano.
PYRO STAGE
The PYRO Stage at Enchanted Valley Carnival represents the element of fire. Fire has been one of mans most valuable discoveries and and the element that has been vital for the development of civilizations creates a sense of positive energy, assertiveness and passion. Just in the same way the stage too is going to be burning with hot performances throughout the 3 days festival featuring the Full On, Armada & SCI + TEC crew. The Genres at this stage will include Techno and Trance.
On day 1 (18/12/2015):
Armada Trance Stage is a brand new set up this year at BEVC and will quite definitely hog the limelight as it is the very first in India too. For trance fans it doesn't get any better than this. The stage will feature artists like:
Thomas Gold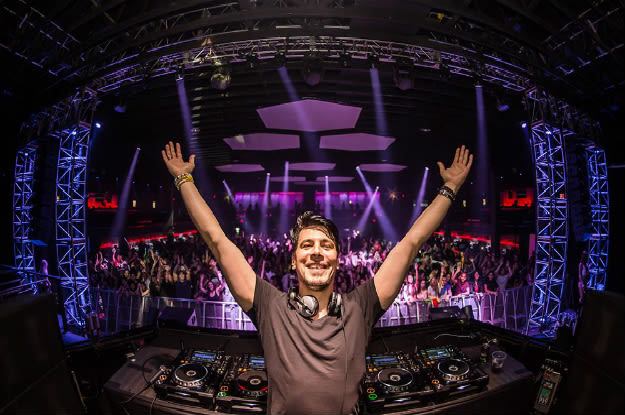 Thomas Gold is a Berlin based DJ and Producer whose music can be described as progressive house with trance influences with uplifting and energetic builds. He has been in the EDM sector for quite a while now and has produced great tracks such as Take Me Home, Alive, Sing2Me and many more along side top international artists.
OMNIA
Evgeny Smirnov , better known by his stage name Omnia, is a trance and progressive music DJ and producer. Over the span of his career so far he has performed at some of the top festivals and clubs such as Global Gathering UK & Ukraine, Ultra Argentina, A State of Trance 600 Holland, Trancefusion Czech Republic, Summadayze, Zouk, Papaya, Privilege, Eden, Ageha, Ellui and much more. His journey began in 2012 when his remix of Arty & Mat Zo 'Rebound' gained the recognition of trance legends Armin van Buuren and Markus Schulz who helped him rise in his career soon after.
Other artists for the day include Indian rising sensation AERREO, Ben Gold and Ruben De Ronde.
On day 2 (19/12/2015):
FULL ON Stage
The Full On stage concept is the brainchild of half of the New World Punx and legendary trance producer and DJ Ferry Corsten which was started in 2007.The staged has been set up at several major festival around the world like Tomorrowland, Stereosonic and many more and what makes it unique is the fact that any artist regardless of their genre can perform on the stage.
The artists performing on this stage include legendary artists like:
Ferry Corsten
Ferry Corsten is a DJ music DJ , Producer and Remixer who need little introduction. After kickstarting his career in the 1980s he shot to fame with release of tracks like 'Out of the Blue' , 'Rock your Body Rock' and loads more and by 2004 he was ranked #4 on the DJ MAG Top 100 poll. He recently began his own concept known as Full On where he promotes several artists in top festivals as well.
Other artists include Alex Morph , Marco V , RAM and Snow Flakes.
On day 3 (20/12/2015):
SCI + TEC Showcase
Featuring artists like:
DUBFIRE
and other artists like HOBO, KOHRA and more.
AKVA STAGE
The AKVA Stage represents the resource the mankind cannot survive without and brings about a refreshing and cool vibe, water. Hence the stage helps bring life to the festival with its soothing progressive trance sounds as well as Underground techno tunes. The genre of music at this stage is away from the mainstream Underground Techno and Progressive Trance. The AKVA stage will feature the SOMA Project stage for the very first time.
SOMA Project
The SOMA Project stage is a creation aiming at multi-genre music fusion set-up started by Devraj Sanyal, MD & CEO of Universal Music Group. This is what he had to say about it :
" I am proud to introduce 'The Soma stage' curated by my friends Karan Bhoj and Vic Lakhani from the Soma Project. BEVC has always aimed to be a multi genre music festival and the addition of 'Intelligent global music culture sound' is one step further in that direction. While we have global stages like Armada, it's vital for India to have our own stages as well and I'm pleased to be the first festival to stand proud and open it up for our own talent."
The stage will feature the following artists:
Shpongle
Known for his iconic maks and ambient tunes under the setting sun, Simon Posford better known as Shpongle will be all set to make his Indian debut at BEVC 2015. Catch him live in action as he headlines the SOMA Project stage.
Other artists at the stage include Steve Rachmad who is a huge name in the techno world, Avalon, one of the biggest names in the Psy-trance circuit, Riktam & Bansi, and Indian talent including Ashvin Mani Sharma, Bullzeye & Chromaderma.
TERRA STAGE
Earth is one of the most the most classic elements which keeps us grounded and stable and hence the TERRA Stage will bring to us some of the best live and indie music with a bit of an electronic twist gaining inspiration from Mother Earth. The genre of music will include Live and Indie music with an electronic twist.
BEVC this year has tied up with Saavn as their Powered By sponsor, with the aim of developing and designing a great musical experience for fans through its platform. Saavn will also be curating a stage, LIVE at Saavn, to bring out the best electronic music tunes and bringing together various sounds.
The LIVE at Saavn stage will feature the following artists:
Laxmi Bomb
Laxmi Bomb, Pratyul Joshi ,Dhruv Visvanath, Samved, Blank Live, DJ Humza, Fuzz Culture and many more exciting local bands and Live performances that will surely leave you wanting for more.
AERO STAGE
As the dust settles after all the day events the winds of change blow towards the afterparty venue that will take place at the AERO Stage, representing the element air. Here is your chance to breathe in the mellow Deep Techno and Progressive Trance beats as you bring in the next day of action.  The genre of music here is Deep Techno and Progressive Trance.
The official BEVC's after-party will feature the following artists:
On the  first day, Arsh, Sunglider and Starling will bring to you some of the best-known Trance tracks.
The second day will feature:
JOSHI
and Aditya Wanvari, The Usual Suspects and many more.
The third and final day will showcase:
Arjun Vagale
Arjun Vagale is a renowned Indian DJ who has made quite a name for himself in the global music sector. His top quality music sees him regularly perform at various clubs in places like Europe, the USA and Asia. He has played alongside heavyweights such as Richie Hawtin, Dubfire, Adam Bayer, Josh Wink, Apparat, Sasha, Fat Boy Slim, and Nic Fanciulli and many more truly making India proud.
other artists for the day inlcude HOBO , Shaded and OOZEUNDAT.
This year the campsite will also feature an exclusive Live Music stage where the fans will experience more than just music bringing together various artists and sounds to create  a wholesome and memorable experience such as Silent Parties. In addition to all the music performances BEVC 2015 brings to its attendees adventure activities like, Rock Climbing, ATV, Rappelling, Zip-line , Dream catcher workshops for the art lovers, sport activities, POI workshops, Drum circles, painting workshops and a whole lot more thereby creating a festival experience to remember.
Checkout the day-wise lineup of BEVC: