India, in the last few years has undoubtedly witnessed a steady rise in music loving population especially among the youth and that has brought about the need for bigger and better music events around the country. Several international artists have added various Indian festivals and clubs as part of their International tour venues and this only goes to show the loyalty and fan following that Indian fans have for them.
Among these ever so many music events that have sprouted up over the past few years, certain festivals only seem to be raising the bar for their faithful fans by offering bigger stages, better artist line-ups and a whole lot more amenities. Festivals that span over a few days even offer camping facilities where ravers from around the country as well as other part of the world gather after a days event and these festivals only seem to strengthen the bond among its attendees and are hence much more favored. So here is a run-through of a few top 6 camping festivals in India that you should surely not miss out on.
Storm Festival , Coorg
Picture camping a midst lush greenery while you breathe in some fresh air in stark contrast to the every so polluted environment back in the city, and all this topped off with the tunes of your favorite songs being played live. Its seldom that you can even think of a place like this but lucky for us, there is a getaway which brings to you all this and more in the southern state of Karnataka, in a place called Coorg. Presenting one of India's most authentic camp-out festival, Storm Festival, hidden away from the hustle and bustle of the city life and offers a host of things to do for its fans like music workshops on the go, yoga sessions, recreation activities and of course some great music. The festival witnesses a blend of many genres of music including various forms of Electronic Dance Music, rock, jazz and a whole lot more by live performances. Another highlight of the event is also the organizers firm policy against Drugs usage as well as the strong message they share towards environment protection. Watch this years teaser for the Storm Festival here. 
When: 31st December 2015 – 1st January 2016
2. Escape Festival of Art & Music – Naukuchiatal
Since its inception back in 2009, Escape Festival has been a perfect amalgamation of art, music and camping making it a favorite destination among artists and fans alike. As the very name goes, the festival is more like an escape into a world of art and music a midst the scenic view all around. The festival takes place at a lake resort at the very foothills of the Himalayas and is an ideal retreat which features bands, artists, writers, photographers, painters, graffiti artists, tattoo artists, potters and of course exceptionally talented musicians. Furthermore, Escape Festival is home to a festival camp, a film festival and a flea market all along the shores of Lake Naukuchiatal in Uttrakhand. Artists like Skinny Alley, Lou Majaw, Indigo Children, Blackstratblues, Thermal & A Quarter, Fuzz Culture, White Wizard and a whole lot more have performed at the festival in the past and the line-up will only get better.
When: To Be Announced
3. Enchanted Valley Carnival, Maharashtra
In less than 24 hours this year's edition of the Bacardi Enchanted Valley Carnival will be under way and after having grown in all aspects over the years, this edition will quite surely enthral its fans once again. Set a midst the beautiful landscape of Amby Valley City near the hill station of Lonavala in Pune, the festival has grown to become one of India's most sought after, with state of the art stage and sound set ups as well as artists performing a host of music genres like House, Techno, Trance, Drum and Bass and a whole lot more. The BEVC this year has a stellar line-up featuring legends like Tiësto and Fatboy Slim and performing alongside them are a horde of well-known artists like Ferry Corsten, who incidentally will be performing at a stage programmed by him and which will feature artists like Alex Morph, Marco V & RAM. The festival will also showcase the Armada Stage for the very 1st time in India. Moreover, the festival will also play host to several camping and adventure activities as well.
When: 18th to 20th of December 2016
4.Ragasthan, Rajasthan
Ragasthan is a unique music festival that spans over 5 days in the midst of the vast expanses of the desert. Just as amazing as the entire set up might seem, so is the music which attracts a varied group of music fans with genres ranging from Electronic Music to Rock and even Indie. The festival has several stages spread over the venue and one among them is the Peacock stage which resembles the animal itself and comprises of completely eco-friendly material. Various EDM genres like Electronic, Dub Step, Drum & Bass, Alt Electronica, Club, House, Trance, Psychdelic, Funk and Techno are played on this stage. At other locations fans can be amazed by the live performances of Rock, Pop, World, Classical, Alternative, Fusion and Local Folk music. Another icing on the cake is that the festival truly knows how to pamper their fans by offering a bunch of other activities such as  hot air balloons, RC planes, Zorbing, Paintball, kite flying and Para motoring, sports like volleyball and football courts and rinks and a chance to tingle those taste buds with some exotic local cuisine.
When: 11 to 14 February 2016
5. Ziro Festival of Music, Arunachal Pradesh
Ziro Music festival is a rather special one that has truly risen to become one of the most favored camping festivals in India. Located at the foothills of Ziro in Arunachal Pradesh, not only does the vast expanses of the shear beauty of Mother Nature leave you mesmerized, the whole blend of music, art and culture makes this a festival to remember. The festival has attracted several music lovers from over the world and India and now the first thing that comes to ones mind when they think of the Ziro hills is the festival itself. Several sought after Indian musicians from every nook and corner of the country, such as Side Effects from Myanmar, RUN! It's the Kid and Dualist Inquiry from Delhi, The F16's of Chennai, Neel and the Lightbulbs from Kolkata, Nicholson from Mumbai,  Uday Benegal, Neel Adhikari, menwhopause, Shantanu Pandit and many more perform at this festival. The organisers also offer workshops on various forms of art and photography as well as a range of recreational and adventure activities.
When: To Be Announced
6. Sunburn Goa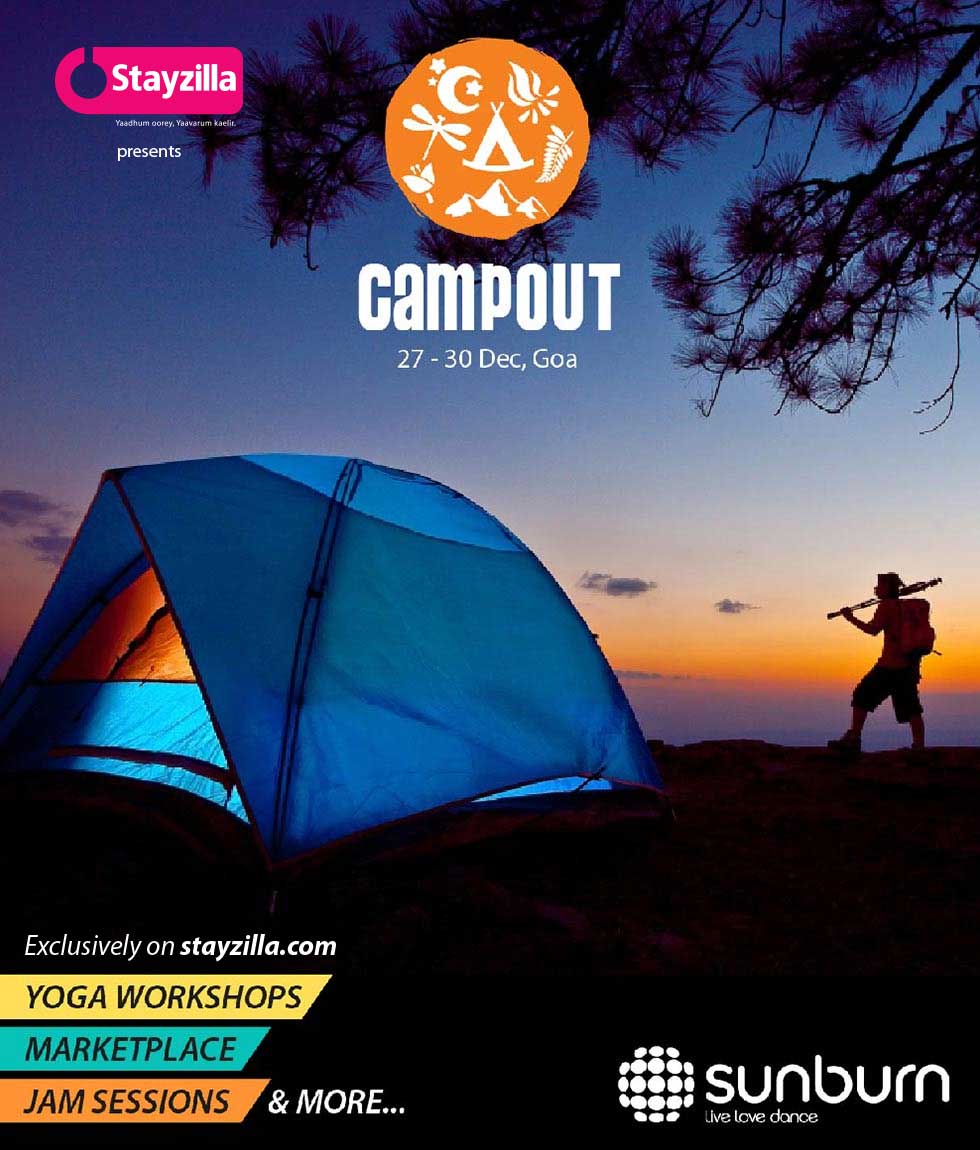 Sunburn Goa has already etched its name as one of the biggest festivals in India and added to this years already exiting things that it is offering its fans for the very first time is Campout. The organizers at Sunburn in association with Stayzilla presents yet another surprise for its fans from this edition of the festival with the introduction of this Camping experience like no other. Campout is not just about the tents where you crash after the fun filled party through out the day but also a vibrant town of sorts with a 24×7 marketplace where you can find all that you need over the duration of your stay and satisfy all your shopping needs for you shopaholics , a travel desk to attend to any travel queries as well as a horde of activities to keep you going like Yoga and Aerobics, Beer Pong, Jam Sessions, Multiple Workshops, Human Bowling, tuck shops and a whole lot more. Moreover visitors can choose from a variety of choices of tents should they not bring their own like club tents and classic tents to name a few. So immerse yourself in this thrilling experience and dont miss this edition of the festival.
When: 27 to 30 December 2015