When it comes down to the valentine's day dinner, it's all about those intricate details, the candle light dinners, the subtle ambiance; everybody simply wants to spend some slow and smooth time with their special one. Bangalore has always been one of those cities which offers several exciting and few themed restaurants which serve delicious and palatable food with no compromise on the ambiance for they certainly understand how special the day is for everyone. Well, if you are in Bangalore for Valentines day and if you still haven't decided where to head, fret not. We've compiled a list of places here for those who just want to relish a scrumptious dinner with their valentine.
Olive Beach
Location: Wood Street, Ashok Nagar, Richmond Road
Cuisine: Mediterranean, European
Located in close proximity to Richmond Road, Olive Beach is one of those places in the city which is always geared to host a perfect date night. With those little candles set up on the table along with the exuberant ambiance, your Valentines day dinner is on the road to become a memorable one at this restaurant. Oh, and you must order wine!
Grasshopper
Location: Near Meenakshi Temple, Kalena Agrahara, Bannerghatta Road
Cuisine: European
When you need the perfect break off the monotonous routine of Bangalore, this exquisite restaurant is unequivocally a place you ought to visit. With jaw-dropping interiors and extremely delicious food, this is just the right place for this Valentines day if you are looking for a desolate and serene restaurant.
Blue Ginger, Taj West End
Location: Taj West End, Race Course Road
Cuisine: Vietnamese
Well, the saying 'A picture is worth a thousand words' sure seems to be apt in this instance. This place needs no explanation to why this would make a wonderful Valentines Day destination. With the option to get a private chef for yourselves, Blue Ginger calls you to celebrate the special occasion in style.
The Glass House-Deli Bistro Bar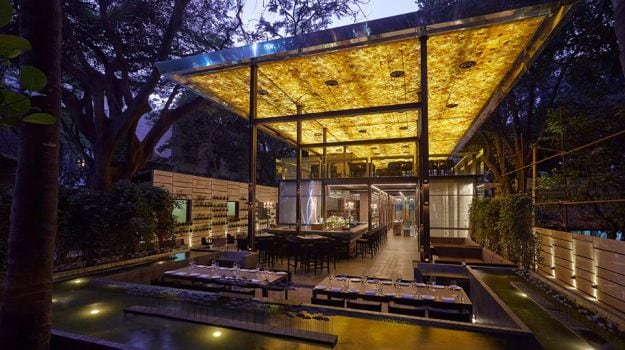 Location: Lavelle Road
Cuisine: American, Japanese, Continental, European
Lush interiors? Check. Extraordinary ambiance? Check. Amazing Food? Check. Valentines Day destination? Check. The Glass House-Deli Bistro is always included in the list of the most romantic restaurants in Bangalore which is exactly why you ought to visit this place if you haven't visited it already.
Rim Naam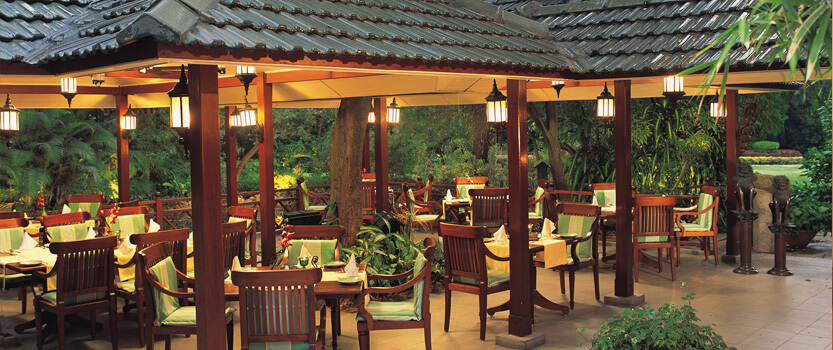 Location: The Oberoi, MG Road
Cuisines: Thai
Meaning 'By the Water', Rim Naam is one of those restaurants which imbibes the idea of sheer tranquility. This calm and serene restaurant situated in the heart of the city is surely one you ought to consider this Valentines Day. Sometimes, an unruffled venue with good food is all that is required to impress your loved one.
Persian Terrace
Location: Sheraton Grand Hotel, Rajajinagar
Cuisines: Afghani, Lebanese, Mediterranean
Located in the north of Bangalore, Persian Terrace adorns an elegant decoration along with providing a fine view. If you are looking for a rooftop place on this Valentines Day, this is undoubtedly the place to be. You can also ask for private dining inside little glass huts if you plan to have an exclusive time with your valentine.
The Tao Terraces
Location: 1 MG Mall, MG Road
Cuisines: Thai, Japanese, Burmese, Chinese, Korean
The Tao Terraces is considered to be the host to some of the most groovy parties and we sure know why. This exquisite restaurant atop the popular 1 MG Mall in Bangalore portrays the appropriate ambiance required for a delightful Valentines Day night. The proximity of this place to several residential areas in the city is what makes it one of the most visited places.
Big Brewsky
Location: Behind MK Retail, Before WIPRO Corporate Office, Sarjapur Road
Cuisines: Finger Food, Thai, Continental, Italian, North Indian, South Indian
Lovely lake side seating with a serene ambiance. To top it off, an equally exciting world cuisine rendered delicately and served in style. Big Brewsky will undoubtedly fulfill all your requirements on Valentines Day and it definitely is a place you must try.
153 Biere Street/ The Biere Club
Location: Behind Forum Value Mall, Whitefield
Cuisines: Finger Food
Situated in the rather busy side of Whitefield, The Biere Club has grabbed the attention of the people of Bangalore with the eccentric interiors and its quaint atmosphere. After experiencing the usual chaos of Bangalore, this is just the place for you and your valentine to be. We assure you that with the shops surrounding the restaurant, this could just be the best possible Valentines Day concoction.
Spice Terrace
Location: Vittal Mallya Road
Cuisines: North Indian, Seafood
One of India's premier hotel chains JW Marriott houses this exquisite restaurant in its Bangalore edition. Located adjacent to the posh UB city, Spice Terrace possesses the appropriate ambiance with seating beside the pool. Not to mention that the food is simply mind-blowing. This is just the place your valentine would like to be on such a special occasion.