Arash Andreas Pournouri sounds like a familiar name? No?
Ash Pournouri, does it ring any bells? Still, a naaah?
What about Tim Bergling?
Yeah bro, Avicii!
Anyone who is a fan of electronic dance music or listens to international radio once in a blue moon knows of Avicii! He is currently ranked No. 6 on the DJ Magazine's Top 100 DJs in the world list for 2014, has two Grammy award nominations and multiple awards to his credit.
Also, he is one of the highest-earning DJs in the world banking in six-figure sums every time he spins at a club!
And you know, who's partly responsible for his success at some level?
A-S-H Pournouri!
Who is Ash Pournouri anyway?
As compared to his lists of work, only a little information is available 'bout this guy's personal life. Born in Iran, Ash is a Swedish music manager, founder of 'At Night' management, handling super-clients like Avicii, AronChupa and Cazzette.  He created PRMD (pronounced as pyramid) Records, a dance label based in the heart of a raging hot Scandinavian electronic music scene.
Why is he on our list of the most influential people in the dance music industry?
Ash took this hustling as being creative with marketing. He captured small ideas to go big, for instance he used to convince big brands to provide something for his club, like fragrance samples that he distributed on the night, and branding the lounge ecosystem like it was a big brand co-hosting it, a win-win for both!
Pournouri discovered Avicii back in 2008 when the Swedish DJ was just 18 years old. After meeting casually over coffee, the two were certain; they wanted to work together, even if Pournouri's vision wasn't quite in sync with young Tim's expectations at the time.
"I could see us working together as he seemed to like me and I liked him, and he respected me and vice versa. It was a gut feeling that he would trust me to let me to lead, and I wanted to trust him to commit to do what he would need to do." – Ash Pournouri
Since then, he has helped groom our "Superlove" boy into one of the hottest acts in music, scoring him more than JUST headlining slots at world's biggest festivals!
According to Pournouri, what is Avicii's secret weapon?
One word, creativity.
During his performance at the Ultra Music Festival, Miami in 2012, the 26 year old became the most talked about artist because he was the only act to bring in a live band to perform with! Thanks to Pournouri's vision and marketing philosophy, all the buzz seemed to work when "Wake Me Up" came out and landed straight on the numero uno spot in 22 countries, becoming the No. 1 song on Spotify and cracking the iTunes top 10 chart in a jiffy; transforming Avicii from track-maker to a pop star! Beyond that, he got his prize client an opening slot with Madonna, with whom the "Levels" maestro released two collaborations on her latest album "Rebel Heart."
Internet critics took to the controversial album premiere at UMF, to which he beautifully tackled and said in an interview:
"The simple answer is that we knew what people were gonna say. It wasn't like no one's gonna notice we put a live band up there. We knew people were going to react. That was the point, to promote. If you look at Ultra's line-up they had over 160 artists per weekend. The person, the one artist that was talked about the most, by far, was Avicii. For me, being a marketer and a brander, mission accomplished. We got their attention. Everyone was talking about the album."
An emphasis on creativity helped another 'At Night' client, Cazzette. The duo fetch an unprecedented deal with music streaming service Spotify, for the launch of their first album. After realising much had changed since the inception of Avicii's career, he told, "I didn't want to follow the Avicii recipe. But when I signed them the electronic market was different completely blown up. Everyone was a DJ. It was hard to break through the noise. So we had to do something different."
The resulting deal caused massive media coverage, legitimizing Spotify as a partner for releasing "Eject," in three parts and ultimately landing a deal with Island Def Jam! The album received millions of plays online and a sweet cut from IDJMG.
In a Billboard exclusive report it was disclosed, Sebastian Ingrosso  brought "Million Voices" producer, Otto Knows on board with Ash Pournouri's At Night Management in a co-management deal!
Coming back to his primary customer, commercial success has always been a double edged sword for Avicii. Following the success of his global hit tracks, Bergling's fame has been coupled with allegation for being "too mainstream."  In his words, EDM as an industry will be whatever it will be. Different genres moving differently as underground will stay underground and the new commercial EDM will take shape into what hip hop and R&B became when it went full retard – super commercial.
While his plans for the future remain somewhat of a mystery, Ash does have a view for the future of EDM and is tirelessly working to turn it into reality:
"I am not planning or wanting to change anything in EDM per se, but in the music industry I want to continue to make things fairer for the artists, producers and songwriters and help the industry understand the consumers instead of fighting them. There's a long way to go, and no one, no matter how hard they think, has yet found the ultimate long-term solution."
This is something like 'adapt to survive' talk that we can all agree, would be nothing but good for the modern music world.
Trouble in paradise, someone?
Every relationship has its ups and downs, theirs is no different. Both Ash & Tim admit that they've had it out with each other on several occasions. Arguments over music direction, creative direction, professionalism, being on time, working in a specific way, Avicii's clothes, his executive decisions and everything in between!
Ash gave more importance to the journey instead of eyeing only the destiny and  often having conversations with Tim on what it meant to be as big as they were gearing up to be and whether or not he wanted "all this" and if he was prepared to do what it would take. Apparently, Ash scored a deal with Avicii being the face of Ralph Lauren!
Despite such "rocky moments" they have been inseparable since that casual meeting over coffee and only plan to continue their domination of the electronic music scene.
A little heart to heart talk?
Avicii once happened to mention:
"I was always really driven … But when I met Ash he took me to a whole 'nother level … Like when I met him he really took me out of nowhere and built my career. I wouldn't be here without that."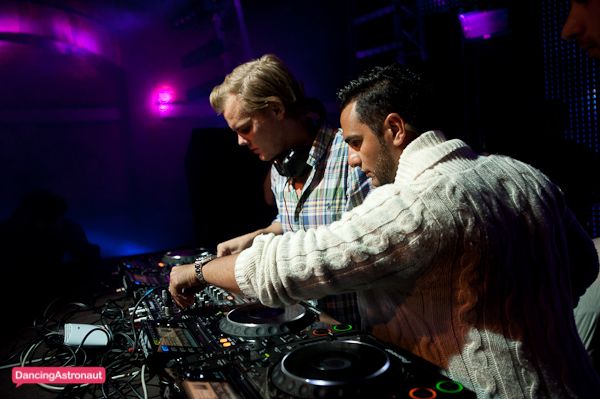 One of the primary pieces to take away from his story is, Ash Pournouri considers the Avicii brand his "baby." Although Tim is the brand, the success of Avicii as a whole is just as important to his manager as it is to the artist himself!
It is clear, behind every person that's reached mega-success level, there's a back-story and people like Ash Pournouri that have helped them go places!