It has been a while since we put together the list of brand new cafes and pubs in Bangalore to visit. But now, we are unsure if this one list would suffice to jot down the best places! Check out our favourites among the newly opened restaurants in Bangalore and do get yourselves there soon!
Bartin's Restobar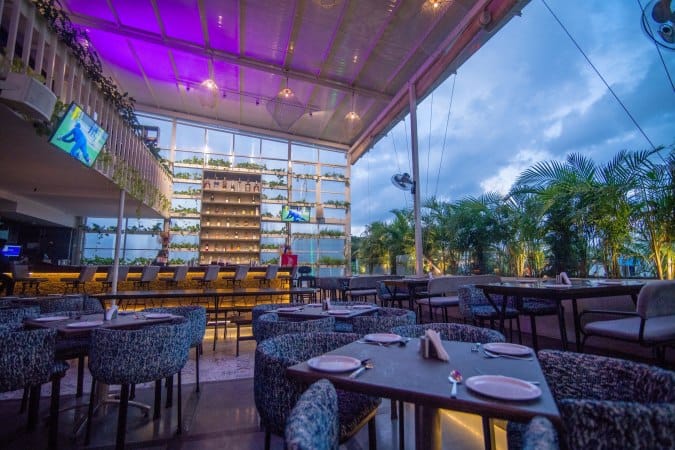 They say "A picture speaks a thousand words". We'll leave you to a picture of Bartin's and let you decide how long it is going to take you to get to this place. While you are there, ensure you try out their succulent prawns!
Location: Milestone 1211, 100 Feet Road Indiranagar, HAL 2nd Stage, Indiranagar, Bangalore
---
Ciclo Café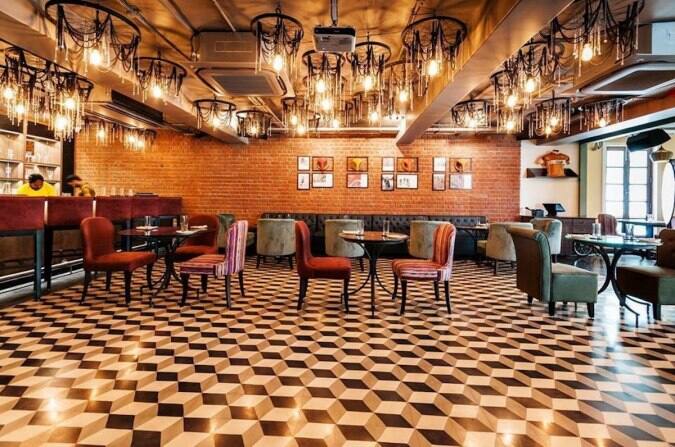 With an innovative and rustic interior, the Ciclo Cafe is the next place you want to visit. It's not just their ambiance that is appealing, the food is equally delicious! Our recommendation would be to try out their steaks, pasta and the kebabs.
Location: 948, 12th Main Road, Indiranagar, Bangalore
---
Café Pink Pajamas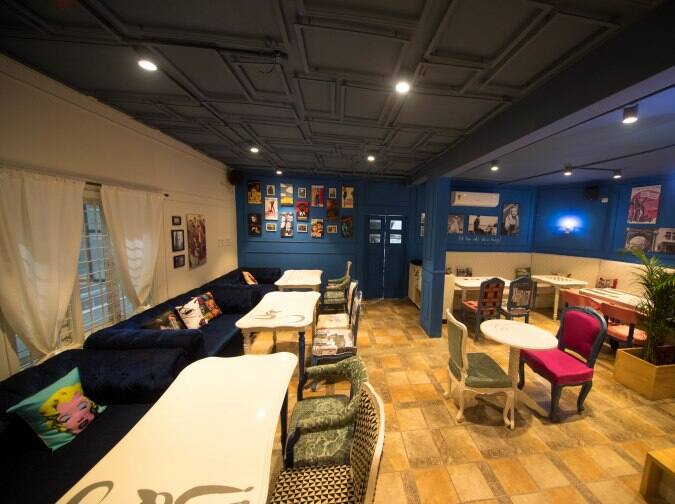 When we visited the place, we straight away felt at home. The soothing ambiance, the pleasant lighting, just the perfect place. Also, they are giving away a free cup of Cappuccino on your first visit there! Need we say more?
Location: 403, 5th Main, 2nd Block, H.R.B.R. Layout, Bangalore
---
XU
When they told us this is going to be the next elite club in town, we didn't believe them. But after we visited the place, Holy Moly! XU, located in The Leela Palace, is one of the most elegant looking and must-visit places in town right now. Their wide course of food, the variety on the alcohol, the service, everything at XU is top-notch. Ensure you check it out!
Location: The Leela Palace, Old Airport Road, HAL 2nd Stage, Kodihalli, Bangalore
---
The Smoke Co.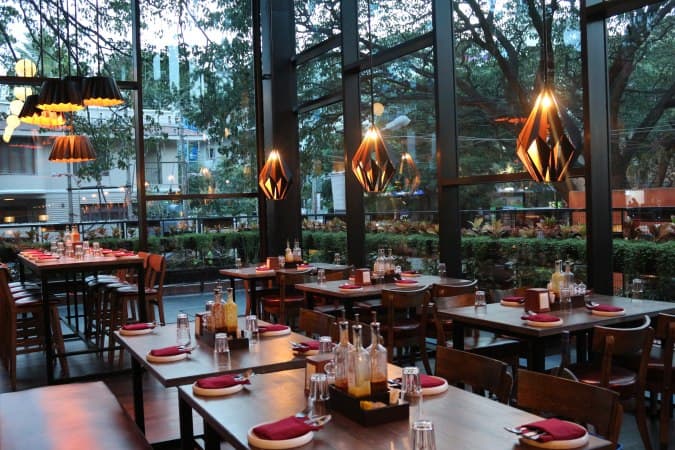 Serving scrumptious American and European style food, The Smoke Co. is one of the most happening joints in the city for its subtle ambiance provides you with a great deal of aesthetic pleasure while you devour their delicious food!
Location: 501, 6th Cross Rd, 6th Block, Koramangala, Bangalore
---
Kitty KO
Sitting atop the luxury five-star hotel The Lalit Ashok, this fine lounge tends to mesmerize you with the lighting and its rooftop view. Even though the prices are a bit on the higher side, for the amazing food they serve, you are sure to get your money's worth!
Location:  The Lalit Ashok Hotel, Kumara Park East, Sheshadripuram, Bangalore
---
Sahn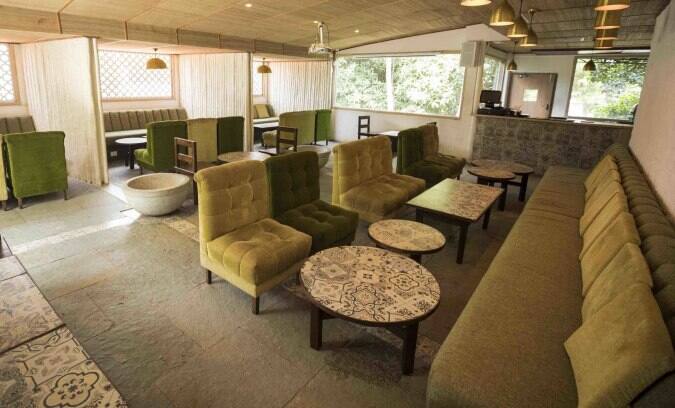 A perfect cafe for your evening outings. Situated in Indiranagar, this is one of the few places in the area that serves hookah as well. Ensure you try their pizzas when you visit the place!
Location: 37, 80 Feet Road, HAL 3rd Stage, Indiranagar, Bangalore
---
1Q1
The first restaurant in town that serves a combination of Peruvian and Japanese cuisines, defines sheer beauty and is the next place we want to go to! Located in the iconic Indian Express Building, 1Q1 is placed at an ideal distance from all parts of the city enabling you to get there sooner. We will let you decide about the place for we can't speak enough about it!
Location: 1 Express Building, Queens Road, Infantry Road, Bangalore
---
Double Decker
A brand new property on Brigade Road that is catching everyone's attention. With the exquisite rooftop setting, creative graphics on the wall, and their absolutely different and mouth-watering Indian style waffles, Double Decker is undoubtedly, going to be one of the most packed venues in the city for a long time.
Location: 120, 4th Floor, Lancer Building, Brigade Road, Bangalore
---
The Underpass Pub & Grub
The Underpass Pub & Grub is one of those pocket-friendly places which doesn't compromise on the quality of the food and the service on the account of reasonable prices. Plus, this place adorns a unique outdoor setting, and by unique, we simply imply that the restaurant is constructed around a tree! Well, what are you waiting for? Our recommendation: Try the barbecued food items, absolutely delicious.
Location: 610, 15th cross, 100 Ft Ring Road, 1st Phase, JP Nagar, Bangalore
---