While anybody with Virtual DJ installed on a laptop and a torrent named "Best EDM Tracks" seeding, think being a DJ is a cakewalk, 'cause all you've gotta do is, press play and jump around, need to get a reality check.
Damn, I wish it was actually that easy! With EDM taking the world by storm, it's easy for us to take for granted the contributions made by today's pioneers. We obviously envy our idols but often forget their humble beginnings. Continue reading to know the amount of hard work our favorite EDM artists have put into reaching the echelons of dance music circuit.
If you enjoyed the piece, don't forget to rate it and let us know whose stories would you like to hear next!
Hardwell
Born in 1988 and brought up in the EDM capital of the world, Netherlands, Robbert van de Corput aka Hardwell, wanted to become who he is today, since the age of 11! What inspired him? An MTV documentary on DJs!
At the tender age of 12, he performed for the first time at his friend's birthday party and DJ Robbert was born. Later on, his dad suggested the name "Hardwell," which is the English translation "van de Corput." In 2002, the "Spaceman" secured a release deal with a small label and soon started playing at clubs around the Netherlands under his new alias. Everybody knows how from the age 14 to 18 his parents would accompany him to clubs as he wasn't old enough to legally enter the venue! All this time he got an opportunity to spin alongside Chuckie and the then big names. In 2006 where Hardwell came up with his Eclectic Beatz series and produced 10 of such compilations, cementing his position in the online social world. 2008 proved to be a game changer for him as he topped the Dutch Dance charts with a deep-house mashup of Robin S' "Show Me Love" and the instrumental version of Steve Angello & Laidback Luke's track "Be"! Two years later, his mentor and a resident of his town, Tiesto emailed Hardwell and invited him to play in Ibiza. As a no brainer, the young Dutch flew all the way and unleashed his skills in front of 10,000 people!
In 2011, he debuted at No. 24 on DJ Mag's Top 100 DJs, secured the 6th position the subsequent year, and finally in 2013 reached the top, maintaining his championship reign till 2014, to lose the throne to Dimitri Vegas & Like Mike in 2015.
Armin Van Buuren
Recognized as a world-class DJ and the face of trance music, Armin Van Buuren has spent more than 20 years perfecting his craft and taking dance music to an unimaginable height. At just 14 he began manufacturing music and after graduating from Stedelijk Gymnasium Leiden, Armin started working at a club to gain experience and hone his skills. The law degree took a backseat and his live performer days followed. The 19 years old Dutch, tasted success with "Blue Fear," making his way to the UK music charts. Later, he received an offer to DJ for Nexus in Leiden, where he apparently treated the club-goers with his famous six-hour sets! In 2001, Buuren aired the first episode of A State of Trance (ASOT) laying the foundation of the most enthralling two hours of the week. 2002 came and brought Armin Van Buuren to the No. 5 position on DJ Mag's Top 100 countdown. "Shivers" was released in 2005 and contained collaborations with Nadia Ali and Justine Suissa, delivering emotional tunes and positive sweeps. In 2007, not only did ASOT hit 300 episodes, he reached the No. 1 position in the DJ Magazine's Top 100 DJ list! His ability to blend trance with other electronic styles pushed him to the higher end of the spectrum. "Imagine," his third studio album from 2008, was No. 1 in the Netherlands and his single "In and out of Love" gathered over 150 million views on YouTube! He earned a Grammy nomination in 2011 and was appointed an Officer of the Order of Oranje-Nassau! He has been able to maintain a Top 5 position on DJ Magazine's Top 100 list year after year and was even the head performer at King Willem-Alexander of the Netherlands crowning!

Tiesto
The Tom Cruise of dance music world, Tijs Michiel Verwest; is one of the names synonymous with EDM. Back in 1997, he partnered up with Arny Bink to start the Black Hole Recordings, which released their first CD series titled "In Search of Sunrise" and the "Magik," pulling them more and more audience. 1998 was when he teamed up with Dennis Waakop Reijers, and the two went only uphill in terms of popularity as well as chart performances. In 1999 and 2000, Tiesto and Ferry Corsten created a common alias by the name of Gouryella. Albeit, it was only in 2000 when the remix of Delerium's "Silence" featuring Sarah McLachlan came out and propelled him as a favorite into the radio friendly market! Apart from that, his first solo album, "In My Memory," was released in 2001 and let him sit-atop at the #1 spot on DJ Magazine's Top 100 DJs Poll for three years straight in a row from 2002! Shortly after recording his second studio album, "Just Be," Tiesto went on to do one of the few things only he can brag about; being the first ever DJ to perform live at an Olympics in 2004! That's not all, his influential radio show and podcast, 'Tiesto's Club Life' has been instrumental in paving the way to his legendary status! "Elements of Life," marked the number one album on the Dutch album charts and on the "Billboard Top Electronic Albums" also got him a Grammy nomination in 2008! There is no stopping him and his ability of playing around with different genres!
Diplo
Before Diplo was Diplo, his name was Thomas Pentz. The face behind the mainstream underground scene has produced almost every electronic genre there is to listen and started off by making pop songs by using an old turntable-mixer at a very young age. Coming out from high school, Jack U's one half, moved to Philadelphia to study film at the Temple University. After multiple meetings with DJ Low Budget, the two formed the duo, Hollertronix and became the underground rave kings! Their party's uniqueness brought them; massive crowds from 20 people in the starting to a point where they had to turn people away, and an opportunity to market their music, promote themselves as well as experiment with different genres unlike any other artists in the city or even the world! Hollertronix's mixtape "Never Scared" was able to make it to the top 10 albums of 2003 by the New York Times and soon Diplo took off to focus on his solo career. In 2004 he released his first studio album, "Florida", under the label, Big Dada. The album sounded nothing like the Diplo we know today; No Butts, No Trap, No Lean On and No Skrillex!
The dinosaur fanboy gained attention from M.I.A. and soon partnered together to work on a new mixtape called "Piracy Funds Terrorism Vol. 1," voted #1 album of the year by Pitch Fork Media and New York Times! M.I.A and Diplo continued to their partnership and crafted "Paper Planes," reaching #4 on the U.S. Hot 100 Charts and selling over 3 million copies! Over the years, Diplo has proven how sheer talent can realize your dreams if you believe in yourself.
Martin Garrix
Just like Hardwell and Tiesto, Martin Garrix hails from Netherlands. He fell for EDM when he saw Tiesto performing at the opening ceremony of the 2004 Summer Olympics and developed a taste for trance initially but moved to house music as he exposed himself more. In the whole process, Garritsen bought his first DJ setup and from 2010 he started playing at local parties for his family. At 13, he spun at a club in Amsterdam and a few later he released a bootleg remix of Enrique's "Tonight" which he promoted everywhere possible on social media!
All the blood and sweat fetched him a deal with Spinnin Records and Sander van Doorn released his track "Error 404", on his label! In 2013, the then 17 year released the year's biggest hit, "Animals," holding No.1 spot on Beatport for quite a while! Today, he is on his way of running his own label, flying across the world playing at stages, we only dream of standing in front of!
Nicky Romero
Born in a village in Central Netherlands, Nick Rotteveel van Gotum moved to Canada and later on to France where he completed his education. School never fancied him but he had knack for music which later in his life led him to feature alongside incredible performers like Avicii, Calvin Harris, David Guetta, Tiesto, and Fedd Le Grand! Learning to hit the snare at the age of only six, young Nicky found himself playing in a fanfare. The "Toulouse" producer got his first drum set at 12 and since then, he has been living his dream but before his DJing days, he briefly had to work as a bartender after completing his final semesters. All this time, he was also producing music and was signed for his first label and the tracks "Privilege" and "Qwerty" were soon released, followed by the track "Funktion One". After a couple of other releases, he was signed by the Ministry Of Sound to do some remixes and Romero's reputation soared earning him the award for the 'Artist To Watch' in the year 2012 by MTV and 'Highest New Entry' from DJ Mag! Nicky also has a philanthropic side and has supported the renovation of playgrounds for needy and disadvantaged children! He also designed an Electric Family bracelet whose proceeds are donated for cancer. Like most big players, Nick is the founder of Protocol Recordings, a label which helps up and coming producers!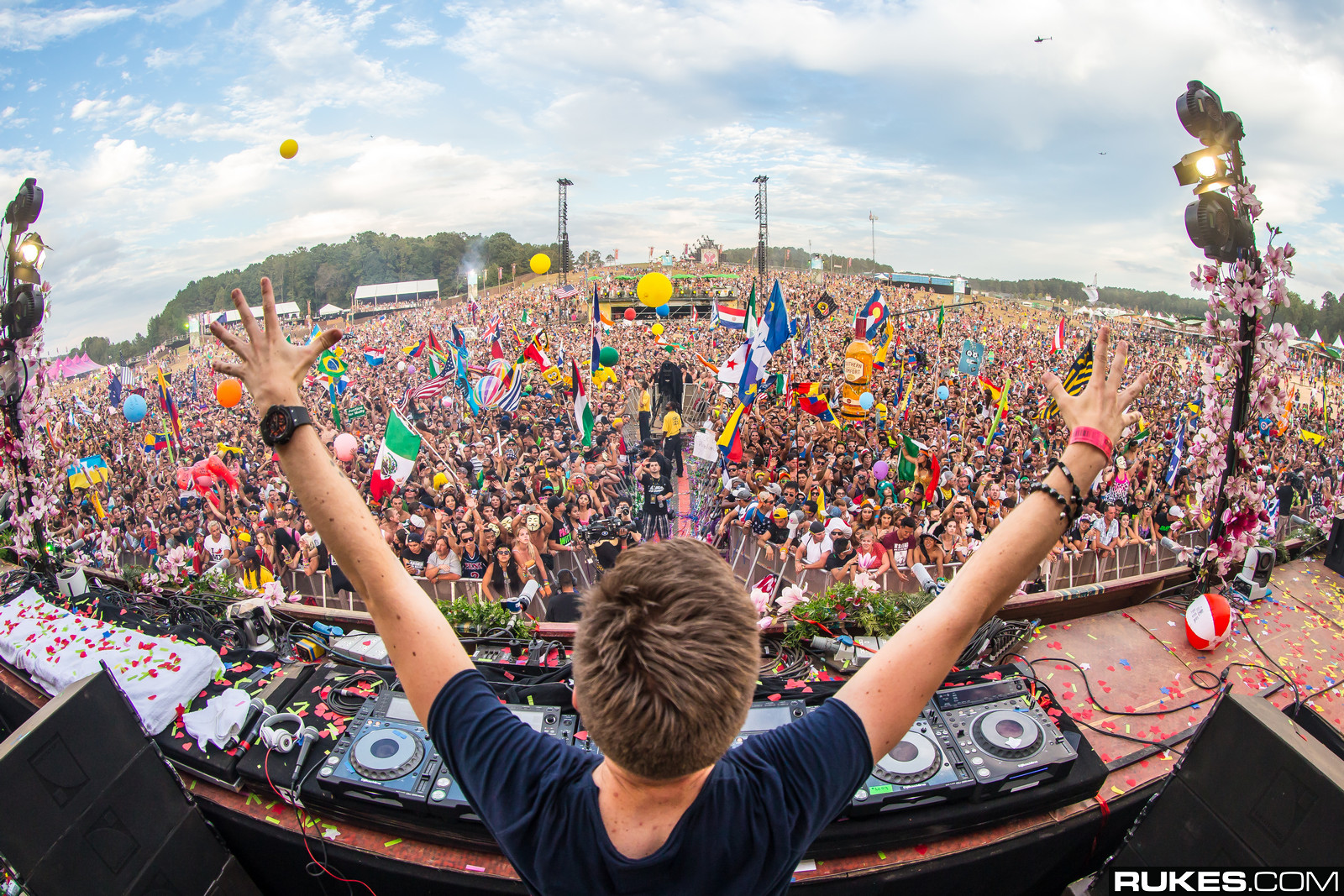 Calvin Harris
A jobless Adam Richard Wiles created music in his bedroom as a hobby before he posed for Emporio Armani. Calvin Harris, as we know him, started his musical journey job in a fish factory from which helped him collect money to sponsor his trip to London, where dance music was booming. Meanwhile at his hometown in Scotland, he was able to release two of his tracks on a UK based label called Prima Facie, titled "Da Bongos" and "Brighter Days" under the identity of "Stouffer." His stay in London was short and he only released one song as since wasn't able to find a source of livelihood there. However, "Let me Know," a track he released, featuring Ayah, was a great improvisation over his previous works.
Harris never gave up and took to Myspace (Facebook of yesteryears) where he started uploading his tracks and got discovered by a talent scout for EMI! In 2006 his jobless streak ended and was officially signed to EMI. 2007 was special for him as he skyrocketed to cloud 9, thanks to his album "I Created Disco" which contained two tracks that became top 10 ten hits! Unfortunately he hasn't ever earned the title of World's No. 1 DJ but he has been named the "Highest Paid DJ" almost each year!