Dance music in India seems to be the next big thing, following the Black Zara Jeggings fad. It's everywhere, like seriously.
We all love live-sets no? Maybe that's the reason every artist wants to play here. Like ARTY and Steve Angello are due next month!
*Didn't know? Never miss out on any tour update, start following us on Facebook.*
Anyway, getting back to square one, the reason you're here is to know what bothersome stuff we Indians do at any EDM concert. For starters: uploading pictures with captions like "best day of my life" the next day on Facebook. I guess, your school farewell, after party, college's first day, fresher's etc. were also the "best day" of your life.
But before we go any further, I would like you to know, it's an exaggerated/sarcastic/humorous piece of text meant to tickle your funny bone (hopefully) and not to hurt anyone's sentiments.
Are we cool?
If yes, read on:
Asking for a deduction, when buying tickets
Free dhaniya mirchi bhi daaldun?
Pushing everyone to get space for jump before THE drop

Aap fun ke peeche. Fun aapke peeche. Too much fun haan?
Drunken peeps doing the "tu mera bhai hai" hug

Good time to know about all the good deeds you've done for him.
Snapchatting everything from "Tickets" to "High AF."

I was just waiting for your 400 seconds story.
Kids walking in with bouncers.

Helicopter kahan park kara aapne?
Faking an orgasm face during a trance buildup.

Trying to converse in English with a fake accent
*Cute girl around*
"'Sup bro. I am near that fucking security check shit."
*Otherwise*
"Kahan hai bc? Checking wali line me akela khada hun."
Singing only when a radio friendly track plays
Fir bhi lyrics toh sahi gaalo bhai.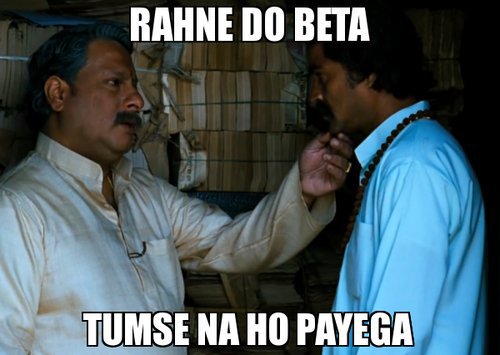 Cursing the guy(s) wearing the same Zara leather jacket
All hail to the omnipresent Zara.

Criticizing the artist without knowing anything about him/her
Tiesto hai, Sharma Ji ka beta nahi!

Shagun: Playing Punjabi songs in the parking lot
There's no rule book though but you know… Well, fuck it. I love 'Bapu Zimidar' too!
What do you think are the most annoying things other concertgoers do? Comment and don't forget to rate this article!