The last year has undoubtedly been a massive one in the electronic dance music industry with indications of a steady rise is music listeners and ravers all around the world as well as an exponential growth in the number of music producer and interestingly of various age groups, who sought out to bring out the best in electronic music. Moreover, it has not just been the monopoly of the various commercial genres of music but the spotlight has begun to shine bright on several new sub genres in the industry like future house, chillstep, bounce, and trap.
What's more is that curators of music festivals around the globe have spotted this new found love for the music in fans and have given it their all to amp things up at their festivals just to make sure that their fans have a memorable experience . Both the musical experience and venue ambiance have thus seen massive changes and one of the most significant features of any festival are the stages and the setting up of which are the top priority for organizers. Festivals like  Insomniac, Ultra and Tomorrow are quite definitely known for their jaw dropping , trademark stages and have gone a step further to really step up their already massive productions. Other festivals too have sought to more creative stage set up ideas and so here is a list of some of the most remarkable stage designs that we believed truly stood out.
Tomorrowland
Tomorrowland on an average has around 15 stages set up at various locations and are painstakingly decorated in their own unique style while at the same time living up to the festivals theme. The 2015 edition saw the main stage stage depicting the theme which was the Secret Kingdom of "MELODIA." With elegant panels, a number of led screen along with the trademark , massive central screen and a number of other add ons , this was quite possible the most magnificent stage in the festivals 11 year history.
Life In Color
Life In Color, a music festival based out of United States of America which began in 2006, is dubbed as the world's largest paint party and is known for the trademark spraying of paint over its fans with the aim of bringing a bit a color and joy in the lives of each and every raver. The stage at Life In Color Kingdom depicts the head of a mythical lion and was so designed with the aim of bringing out the energy and the inner animal in the fans. As the festival progressed the stage came to life with bright lights illuminating the elegant structure as the artist performed in what was intended to be the open jaws of the Lion.
Electric Daisy Carnival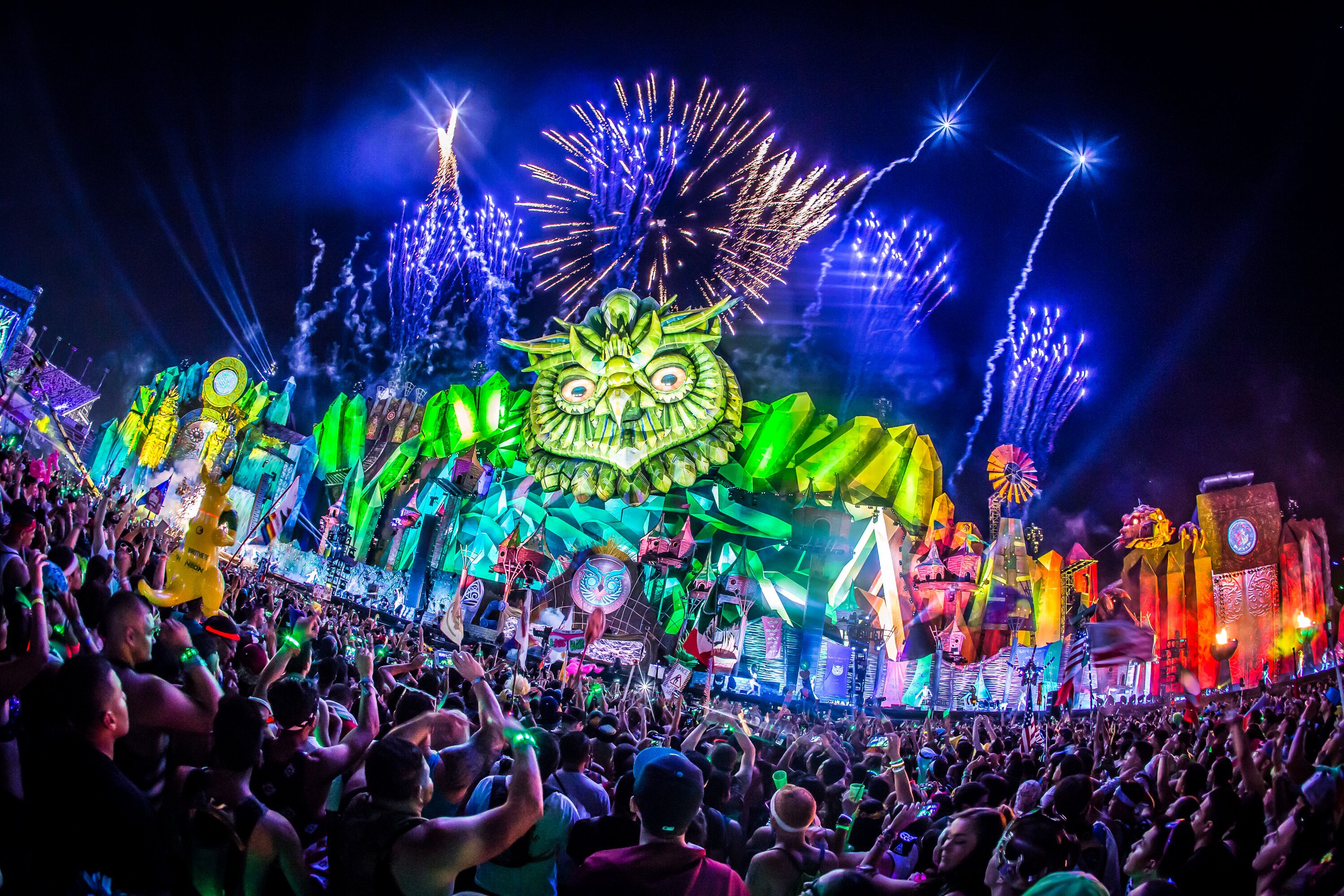 EDC or better known as Electric Daisy Carnival is the brainchild of one of the front runners in the event management industry, Insomniac Events. The 2015 edition was a massive production indeed witnessing over 400,000 ravers over 3-days. The entire setting was probably straight out of a fairy tale book; ravers soak in the musical experience as the well illuminated wise owl watches on.
Q-Dance at Mysteryland
Netherlands based promoter ID&T are the creators the famous Mysteryland festival which is a series of electronic dance music festivals. Q-Dance is a company that organizes harder styles of music and in association with ID&T they set up a hardcore stage which resembled a Baboon in the 2015 edition. The stage was topped top class sound systems, lighting and pyro.
Tomorrowworld
Year after year a town of Chattahoochee Hills in Georgia, comes to life all thanks to yet another massive music festival, Tomorrowworld. The festivals draws in huge crowds from around the world and features a diverse assortment of artists over nine stages. The main stage called the Key to Happiness has a breathtaking set up with intricate designs , top class audio and visual add ons and of course some pyro to top it all.
Coachella – Big Fish Stage
Coachella, an annual arts and music festival held at California, draws huge crowds from around the globe and features some top quality music from multi-genres as well as plays host to art installations and sculptures. The Big Fish is a rather visually engaging stage set up which stands at 146 by 145 ft and is interestingly supported by pieces of recycled and reused plywood. It made its debut at Coachella in 2015 and houses large crowds while providing a colorful and relaxing experience. The stage makes sure the music remains loud and clear and the bass is just right but at the same time provides adequate ventilation and shade when the sun is out.
Mysteryland USA
Mysteryland had yet another massive event and this one at Bethel Woods in New York on the Memorial Day Weekendof 2015.
Ultra Music Festival – Arcadia Spectacular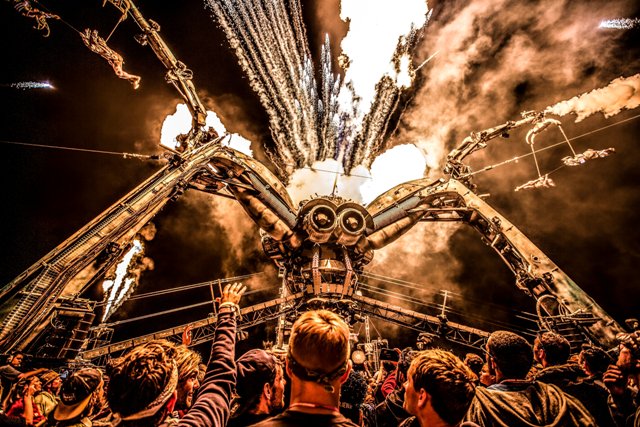 One of the many spectacular stages at Ultra 2015 was Arcadia Spectacular which was a Giant Spider DJ booth that spits fire and provides an experience of a lifetime.
Ultra Miami 2015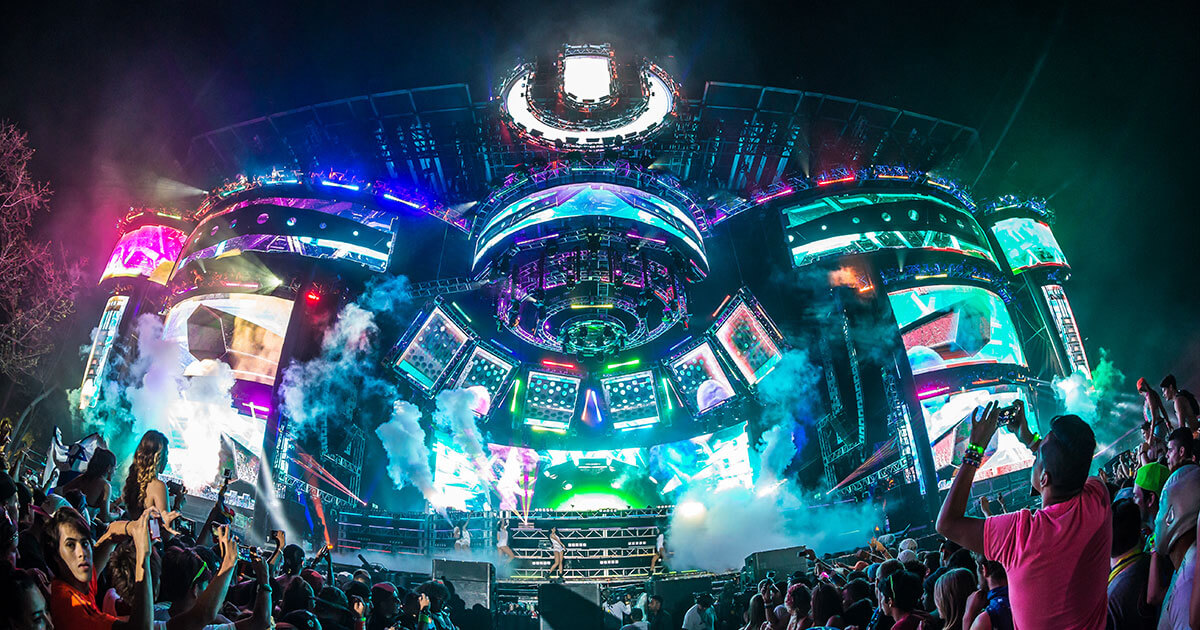 Ultra Miami needs hardly no introduction and here is a picture of yet another one of its iconic stages.
Alfa Future People
Life Is Beautiful Festival
Life Is Beautiful or LIB is an annual music , culinary and arts music festival held at Las Vegas, Nevada. Here is a glimpse of just one of the many artistic structures set up at the festival.