The ninth edition of one of India's most iconic music festival, Sunburn Festival Goa is just a couple of days away and fans in India and from all around the world are only beginning to get more restless with the anticipation of what to expect this year. The Sunburn Festival, has already reinstated it's stature of being one of Asia's biggest and best festivals out there and this year round the organizers are undoubtedly all set to amp things up, to make it a memorable experience for all.
Year in and year out the festival has outshined itself and this year too things are set to reach a whole new level. After having announced a massive artist roaster comprising of some of the biggest names in the Electronic Dance Music industry like the number one DJs in the world- Dimitry Vegas and Like Mike, tropical house sensation KYGO, Dutch wonder kid Martin Garrix, David Guetta and of course the man behind the official festival anthem- KSHMR and many more legends fans have more than they could have asked for. But for the organizers, that was not all that they had to offer, a first time camping experience, workshops, adventure activities have also been added to pamper their attendees.
Moreover, in the past year the music scene in India has escalated to a whole new level with artists performing at top stages and venues around the world, releasing tracks under huge record labels and of course working with top international artists. Sunburn has done its bit to honour there Indians who have made the country proud by offering them a chance yet again to perform with the best in the industry and prove to their country what they are capable of. Here's a runthrough of 10 homegrown artists to watch out for at Sunburn Goa.
(S)haan
Son of the ever so zealous man behind the festival itself, Mr. Shailendra Singh, Shaan Singh or as we better know him, DJ (S)haan has truly mad his dad proud by achieving feats that no other Indian artists has ever done till date. Starting things off back in 2010, he became the youngest DJ, at the age of 15, to play in an international music festival, which was that years edition of Sunburn Goa festival. Since then there was no looking back for the young yid who rose to the highest of heights by becoming the first Indian to perform at easily the biggest ever electronic dance music festival, Tomorrowland. Thus so far Shaan has performed at the biggest festivals in Asia,and the world and shared the stage alongside the biggest names in the industry like Avicii, Afrojack, David Guetta, Hardwell, Swedish House Mafia, Tiesto, Dash Berlin and Michael Woods to name a few. In the past year he has produced some top quality music that received tremendous recognition from fans and artists alike. Some of his tracks include Sandro Silva & (S)haan – Hooya under the Armada Trice Label, Fire , Light Up the World and a whole lot more.
Aerreo
It goes without saying that Nikhil Mehta or as we better know him, Aerreo, has risen among the ranks to become one of India's finest Disc Jockey and producer. Since his involvement in music from the age of 13, he has always been actively improving his tunes and steady rising as a mature artist and that has made him what he is today. Besides performing at some of the top clubs and venues in and around India he has impressed a lot of international artists with his music production. His debut track 'Meteorite' was premiered by Nicky Romero on his Protocol radio and Aerreo has been receiving great support & feedback from superstar DJs including DenizKoyu, DJs From Mars, Promise Land, Sick Individuals, Swanky Tunes, Tiesto , Yves V and many more. His latest track 'Alpha' with Disfunktion Official and JANNIKA got much acclaim from the industry and was also featured under the Armada Trice Label.
NDS
Yet another promising artists in the Indian sector, Siddharth Sharma who goes by the name NDS, is surely enough one to look out for at this years Sunburn Goa festival. He is known for his top quality production and edits, one of which being the edit of Hi-Lo's 'Renegade Mastah' which got around 50,000 plays on Soundcloud. He makes sure his fans are not left disappointed in gigs or concerts by not just making the right song selections but also implementing some exceptional skills on the music console, thereby giving them an experience like never before.
Ash Roy
Ash Roy is a producer and DJ whose genres of music ranges from minimal to tech-house to techno. He has been making a name for himself in the industry from the past 17 years by performing around the world in places like Germany, USA, India, Sweden, Netherlands, Canada, Malaysia, Singapore, Dubai, Denmark, Nepal, Sri Lanka, Bahrain and more. In 2004 Ash and his friends founded a unique music project which was an electronica band called Jalebee Cartel, which was a global sensation and provided some quality unadulterated underground dance music.  Ash provided all vocal and percussive elements during their performances.In 2013, Ash launched his own dance music record label – Soupherb Records and besides releasing his music under this label he has released his music on various other prestigious labels such as Trapez Ltd., Creepy Finger, Monocline and Buena Onda to name a few.
Kash Trivedi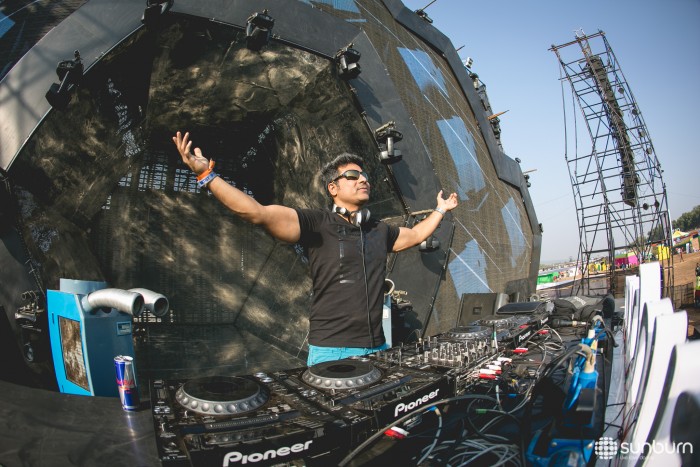 Kash Trivedi is yet another veteran in the field .He has been in the industry for quite a while now and his music perfectly reflects that. His zeal and enthusiasm is rubbed onto his fans through his music and anyone , anywhere listening to his sets would surely have a great experience. His original tracks 'Fiction' and 'Absynth' have been huge hits globally and have got featured in various clubs around US, Israel and Russia.
Sartek
Another very talented emerging artist in the Indian Electronic Dance Music sector is Delhi based DJ/Producer Sarthack Sardana, who also goes by the name Sartek. In 2015, his career sky rocketed after he was signed onto Cloud 9 Music which also had artists like the king of trance  Armin van Buuren,Dutch sensation Hardwell and W&W . Moreover he has performed alongside legends like Axwell, Afrojack, Fedde Le Grand, Quintino, Dmitri Vegas & Like Mike and Steve Aoki during their India tour. His single 'Backed Up' was played by Hardwell during his Mysteryland set, while his track 'Back To The Future' got massive support from artists like David Guetta, Afrojack and Chuckie. Some of his other tracks include 'Dopamine' and 'Apocalypse' and his latest single Don't Need Love which was released under Hardwell's record label, Revealed Recordings.
Mojojojo
Akshay Johar who goes by the stage name Mojojojo is a Delhi bases producer and DJ who specialises in Drum and Bass,Dubstep and Trap music. He is an exeptionally talented artist and his latest album 'Shots Fired' released recently and it features 9 tracks which have a blend of genres like Drum & Bass, Trap, Dubstep, Moombahton to name a few and features several top Indian Vocalists. His performances are a treat indeed and you surely cant miss his set at Sunburn Goa.
Kerano
A producer and DJ from Delhi, KERANO , who used to perform under the alias North & South, has been associated with music from a long time. At the age of 4 he began playing the drums and shortly after he began writing lyrics for songs. One can say that he was born to make music as he began electronic music production while at college when he knew that he like this form of music the best. He has gone on to make some great mashups, remixes, bootlegs and tracks but his biggest yet is the single 'Here I Stand', which he produced with the famous international artist Tom Swoon and the track got released under  ULTRA Records.
Rishabh Joshi
Rishabh Joshi, has made quite a name for himself in the Dance Music sector. He is one of the few Indian artists to perform at Tomorrowland and besides that he has played at some of the biggest stages and clubs around the world.
Nucleya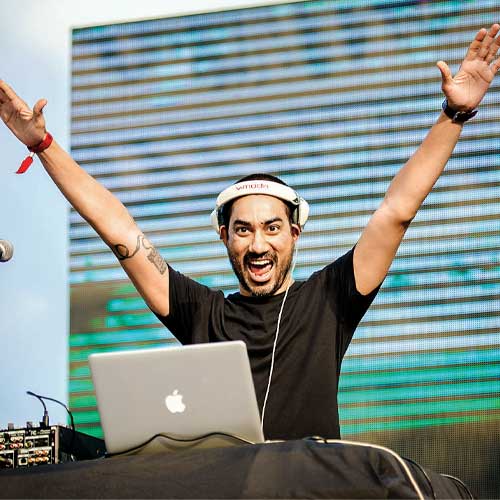 Udyan Sagar aka DJ Nucleya is one of India's most popular Dubstep DJ and producer. He has truly made a mark for himself in the past five years or so. His tracks imbibe several Indian tunes and textures but in the same time are ever so thumping and catchy which truly makes him stand apart. He has performed at numerous music festivals around the world including Glastonbury (UK), Edinburgh Fringe Festival (UK), Lille 3000 (France) and the Electron Festival (Switzerland),Bacardi NH7 Weekender where he performed alongside artists like Diplo, Modeselektor, Skrillex and loads more.